Theories For A Series: The Lorien Legacies #5 (The Revenge of Seven)
Expected Publication Date: August 26, 2014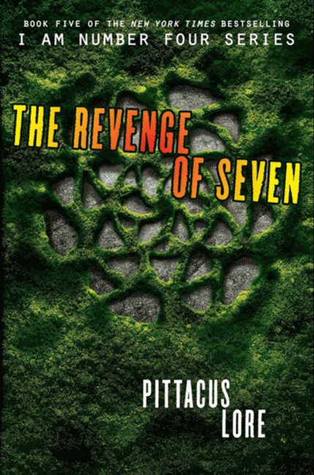 The worst was supposed to be over. We were reunited after a decade apart. We were discovering the truth of our past. We were training and getting stronger every day. We were even happy...
We never imagined the Mogodorians could turn one of our own against us. We were fools for trusting Five. And now Eight is lost forever. I would do anything to bring him back, but that's impossible. Instead, I will do whatever it takes to destroy every last one of them.

I've spent my entire life hiding from them, and they've stolen everything away from me. But that stops now. We're going to take the battle to them. We have a new ally who knows their weaknesses. And I finally have the power to fight back.

They caught Number One in Malaysia.

Number Two in England.

Number Three in Kenya.

And Number Eight in Florida.

They killed them all.

I am Number Seven.

I will make them pay.
As of now all fans of The Lorien Legacies are waiting for The Revenge of Seven by Pittacus Lore.
You guys know how Pittacus Lore likes to give us cliffhangers at the end of each book. It makes me crazy when authors do that (crazy in a good way.....I think). I can't keep all the thoughts inside. I have to share it with you guys. How do you guys think the series is going to play out? I'll go ahead and start with my theories. WARNING: Spoilers for the previous books are included in this post
The Revenge of Seven by Pittacus Lore
-Sarah gets a shining moment! If you haven't read Fall of Five by Pittacus Lore, go ahead and read it now. Sarah is a much better character in that book than in the previous ones. I think she'll probably continue to grow as the series continues. She's still not on the level of my favorite characters from the series, but she's tolerable now. Maybe she'll try to sacrifice herself in an attempt to save the others?
-Six and Sam get more involved with each other. I'm so glad Sam is there to take Four off Six's mind. I remember in The Power of Six when she said she liked both Four and Sam. I almost had a heart attack. I did not want a love triangle and preferred Henry's theory about the people of Lorien falling in love only once. All love triangles just need to die. Seriously.
-Eight comes back. I'm sorry guys, but I just really want him to come back. Why is Marina's life always so complicated? She keeps losing everyone she loves.
-Obviously, Seven gets revenge. Could you not tell from the title?
-This is the second to last book. According to the author, the plan was to tell the story in six books, so I'm thinking this is the second to last book if he decides to stick to the original plan. I can't wait to see how it all wraps up
-Setrakus Ra is from Lorien. I'm sorry, but I think that's the main reason why he's so powerful. I don't know if you guys noticed, but the Mogs aren't really that bright ;)
-Ten is.....Pittacus Lore? Setrakus Ra's grandaughter? I don't really know, but she must be some special person. What does he mean by she's the heir? Ahhh!!! Why can't Pittacus Lore just tell us these things?!
-Another character dies. I'm sensing another character death for some reason. It might be Ten, Sarah, Seven, or that new kid, Adam.
-Number Nine goes on a guilt trip. It's sort of his fault that whole thing happened with Eight. I love Nine, but seriously shhhhhhhhhhhhhh!!!! next time dude. I don't want anyone else to die. Maybe he'll change a bit? He'll be more serious? I just know he'll feel guilty
-They're going to try to rescue Ten. Well, duh!!!
-Bernie Kosar is alive? I sure hope so!
-Sam's father now has immunity. He cannot die. When Four heals him, that sealed his fate for the rest of the series. The author probably wants him to be able to go back to his wife when the series is over. It'll be a waste if they let Ten get kidnapped just to keep Sam's father alive and then he ends up dead. I just don't see that happening. Yeah, he's not going anywhere.
-We find out more about Five. What really makes him tick? Why does he turn his back on his own kind? We need to know this information for the series to move on. Ofcourse he's going to go back on the good side. Haha! There's not even a doubt in my mind that'll happen.
Do you guys read this series? Any theories?