I actually didn't read this up until the middle of 2013. I was so scared that it wouldn't live up to the epic start of the first book. Boy, was I wrong!
Here's my very dramatic overview:
Title: Cinder
Author: Marissa Meyer
Publisher: Feiwel and Friends
Series: The Lunar Chronicles #2
Link:
Goodreads
Cinder, the cyborg mechanic, returns in the second thrilling installment of the bestselling Lunar Chronicles. She's trying to break out of prison--even though if she succeeds, she'll be the Commonwealth's most wanted fugitive. Halfway around the world, Scarlet Benoit's grandmother is missing. It turns out there are many things Scarlet doesn't know about her grandmother or the grave danger she has lived in her whole life. When Scarlet encounters Wolf, a street fighter who may have information as to her grandmother's whereabouts, she is loath to trust this stranger, but is inexplicably drawn to him, and he to her. As Scarlet and Wolf unravel one mystery, they encounter another when they meet Cinder. Now, all of them must stay one step ahead of the vicious Lunar Queen Levana, who will do anything for the handsome Prince Kai to become her husband, her king, her prisoner.
Here's my very dramatic overview:
Scarlet continues the epic story of Cinder (a retelling of Cinderella) by Marissa Meyer. Scarlet is determined to find her missing grandmother even though the police has stopped searching for her. In her hunt for information, she finds out that Wolf, a street fighter, may know something about her grandmother's disappearance and together they go on an epic journey. In the meanwhile, Cinder, finding out the real reason she is so valuable to Dr. Erland...and to the whole world, must escape from prison to fulfill her destiny. While escaping, she meets Thorne, a charming criminal who might be her ticket to freedom. When Scarlet and Cinder finally meet, all chaos breaks loose and the queen will stop at nothing to guard her throne.
It was an amazing tale! In this retelling of The Little Red Riding Hood, Marissa Meyer introduces Wolf (trust me, the name is no joke), who claims he can help Scarlet (AKA little red riding hood) find her missing grandmother. It was way different from what I expected, but...in a good way :) In the meanwhile, Cinder is busy escaping from prison, which is how we meet Captain Carswell Thorne (whom you will LOVE). All of Thorne's quotes will either make you laugh or make you swoon.
Meyer does an excellent job of handling all those point of views. Even though I'm strictly an Emperor Kai fangirl...I have to admit Wolf was definitely a swoon-worthy character. Scarlet is not some scared little girl delivering food to her grandmother, she is fierce and I love it!!! Cinder has grown up a lot since the first book and with some training, I think she has a good shot at defeating Queen Levana.
The story bounces between point of views flawlessly. We got to see the story from the perspective of Kai, Cinder, Scarlet, Wolf...and even the wicked Queen Levana!
Whoa!!!
If you haven't gotten into this series yet, I suggest you start as soon as possible.
Three of my favorite parts of the book
1. Cinder's escape from prison. Warning! Escaped Cyborg on the loose, accompanied by handsome spaceship "Captain." We got to see Cinder using her glamor...and I have to say, I was very proud. :)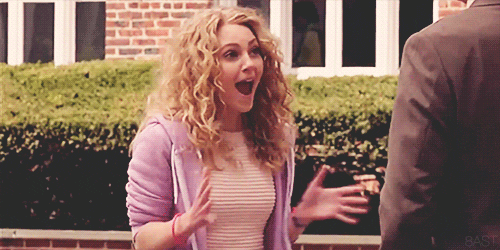 Yay!!!
2. Emperor's Kai press conference. He defended Cinder (in the most diplomatic way possible at the time), and he did it with that famous prince-like sass that I've known and come to love.
May I nominate Cinder and Kai for The Princess of Sarcasm and the Emperor of Sass?
3. The ending!!!! I don't want to spoil it for you guys, but I just wanted to say that epic things happen when Cinder, Thorne, Scarlet, and Wolf finally meet up.
Epic, Amazing, Chaotic things that are fun to read!!!!
Plot: 5/5
Characters: 5/5
5 stars!
I don't know how one manages to come up with such an awesome tale, but Marissa Meyer has done it. In fact, I find the whole series to be flawless.

I hope this review is pleasing to Marissa Meyer. I truly enjoyed the story and I'm certain you will too. It's a fantastic tale by an amazing, talented author. You won't want to miss out on this. I hope you enjoyed the review.
Bye! <3